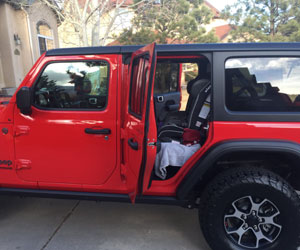 I love my Jeep and when I began to have children, I was not ready to ditch my Jeep for a soccer van. I knew that I had to have car seats and booster seats to keep the smaller passengers safe. I knew that mudding and off-road travel with children were not really safe. I knew that I loved to drive my Jeep and did not want to give it up.
I talked to a local child safety specialist at the Department of Motor Vehicles and got advice on which car seats were best suited for installation in my Jeep Wrangler. The experts suggested the following seats.
Top 3 Car Seat for Jeep Grand Cherokee, Wrangler
1. Graco Turbo-Booster Backless Booster Car Seat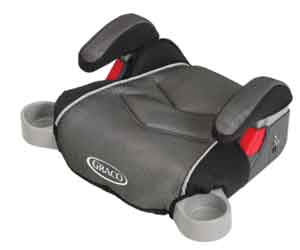 Ages 4 to 10 can easily fit into this jeep wrangler car seat and be both comfortable and safe. This seat is not recommended for use with younger children. It is designed to support children who are between 43" and 57" in height and weigh no less than 40 pounds and no more than 100 pounds.
USA safety standards are all met by this car seat. It has been extensively crashing tested, and designed to provide the most protection to your child in the event of a sudden stop or a crash. It utilizes the safety belts of your vehicle to fasten the child into the seat in a secure position.
The stylish look and design make this seat visually appealing. There are cup holders on each side of the seat so the child can have a drink available. The seat is held in place by the weight of the child and does not have anchors to secure it in place if there is not a passenger seated in it.
Comfortable, affordable, and nice to look at. These seats meet all of the requirements that most parents have for booster seats.
2. Evenflo Big Kid High Back Booster Car Seat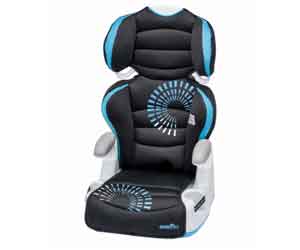 Children that are at least four years of age will be able to ride safely in this safety seat. It is equipped with 2 cup holders so they can have snacks and drinks close at hand. It has armrests and a high back so they can sit in a proper position while they ride.
The seatbelt of your car is used to hold this car seat in position. The seat is padded and the padding can be removed and tossed into the washing machine so it stays clean and neat.
Designed to grow with your child. The seat can accommodate riders between the heights of 40 inches and 57 inches. The weight variations are between 40 pounds and 110 pounds. The seatback has six height adjustments so it can be changed as your child grows taller. The back can also be removed to create a no-back booster seat for older children.
Safe, reliable, durable, and dependable are all words that come to mind concerning this car seat. It is made to allow the child to not only be safe but also be comfortable as they ride in the car.
3. Diono All-In-One Convertible Car Seat
From birth to about 10 years of age your young one will be able to ride safely in this safety seat. Your newborn can ride with a seat facing the rear. Your child can continue to be rear-facing in the seat until they reach about forty pounds. Then they can ride in the seat as a forward-facing device until they reach about 100 pounds.
Soft fabric covers make the seat more comfortable for the child. Memory foam beneath the covers gives the child ample cushioning. And the lining of the seat is created from shock-absorbing foam to help maintain safety if the car is in a crash.
Folds completely flat to make it unobtrusive when the child is not in it. It has been FAA-approved to be used on-air flights for safety. It meets or exceeds all of the safety requirements of car seats.
The latch system has an audible click that lets you know when the seat is properly installed to provide maximum safety. It also has a cup holder, and the seat cover can be removed, washed, and replaced to keep the unit clean and sanitary.
Frequently Asked Questions(FAQ)
Are Jeep Wranglers Safe for Car Seats?
Jeeps are safe and reliable vehicles. They can safely carry passengers that ride in car seats like infants and small children. When you are traveling over rough terrain or driving in off-road conditions it is not recommended that you have a passenger that needs a car seat. If you are driving on paved roads then a car seat in a Jeep is perfectly safe.
Do Car Seats Fit in Jeep Wranglers?
Car seats do fit in Jeep Wranglers. The four-door unlimited edition has more passenger room and is best suited for families that need car seats. Always follow the manufacturer's guidelines when installing a car seat. If you have any questions you can also speak to local police authorities who can show you the proper way to install a car seat.
Which Jeep Seats Seven?
The Jeep Compass is an SUV with third row seating. The majority of Jeep models will seat only five passengers. There have been hints that in 2021 Jeep will be releasing new versions of the Wagoneer and Grand Wagoneer that may seat as many as seven passengers.
Is a 4 door Jeep Wrangler a good family car?
Sadly the Jeep Wrangler is not the safest family vehicle option. I love Jeeps but they are not really built to be family vehicles. Jeeps have high road clearance so shorter people have trouble getting in and out of them. The passenger seating does not really lend itself to car seats and booster seats, and the safety rating of the vehicle is not as good as the ratings of many other SUV vehicles are.
Final Suggestion
If you are looking for a jeep wrangler car seat that will protect a child that weighs between 40 pounds and 100 pounds and accommodates a height of between 43" and 57" I suggest you look at the Graco Turbo-Booster Backless Booster car seat. The seat is designed with plenty of padding to make it comfortable, and it secures the child in place using the safety belts of the vehicle.
If you are shopping for a jeep wrangler car seat that your child can use for many years consider the Diono All-In-One Convertible Car Seat. This seat can be rear-facing until the child weighs about forty pounds and can then be turned around and used until the child weighs about 100 pounds. It folds flat and is approved by the FAA for use on airplanes.