A large consideration of many people who purchase Jeep Wranglers is the amount of towing capacity the Wrangler has. This is understandable since the majority of people who choose to drive a Wrangler do so because they either like to do some type of adventure driving or some type of off-road driving.
When you travel to remote areas to play you often have to tow a trailer to sleep in, or a boat to get you out on the water. The ability of the vehicle you are driving to safely tow the items you need without any stress being put on the powertrain and engine is very important.
Which Jeep Wrangler System is Best for Towing?
The Wagoneer offers the greatest towing capacity without changing anything drastically or adding additional trailering packages.
Average Jeep Wrangler Towing Capacity Packages
| | | |
| --- | --- | --- |
| Trim Level | Engine Size | Towing Capacity |
| Jeep Wrangler Sport | 3.6 liter V6 | 3,500 pounds |
| Jeep Wrangler Islander | 2.0 liter Turbocharged | 3,500 pounds |
| Jeep Wrangler Sahara | 3.6 liter V6 | 3,500 pounds |
| Jeep Wrangler Rubicon | 3.6 liter V6 | 3,500 pounds |
| Jeep Wrangler L | 5.7 liter V6 | 7,000 pounds |
| Jeep Wrangler Unlimited | 3.6 liter V6 | 3,500 pounds |
| Jeep Wrangler Altitude | 3.6 liter V6 | 3,500 pounds |
| Jeep Wrangler Renegade | 3.6 liter V6 | 3,500 pounds |
| Gladiator | 3.6 liter Pentastar V6 | 6,600 pounds |
| Gladiator | 3.0 EcoDiesel V6 | 7,600 pounds |
| Wagoneer | 5.7 liter Hemi | 10,000,pounds |
| Wrangler 4xe | 2.0 liter | 3,500 pounds |
Two-door Jeep Wranglers have less towing capacity than the four-door Wranglers have. The base line towing capacity of the four-door version is 3,500 pounds. The Sahara, High Altitude, Sport Altitude, and Sahara Altitude all come in four door trim levels. That capacity can be increased with upgrades, and the latest 2022 Jeep Wrangler L can have towing capabilities of up to 7,000 pounds.
The towing capacity of the average two-door Jeep Wrangler is only 2,000 pounds. With the proper upgrades you can get that towing capacity increased to roughly 3,500 pounds.
Take a Look at the Jeep Wrangler Towing Features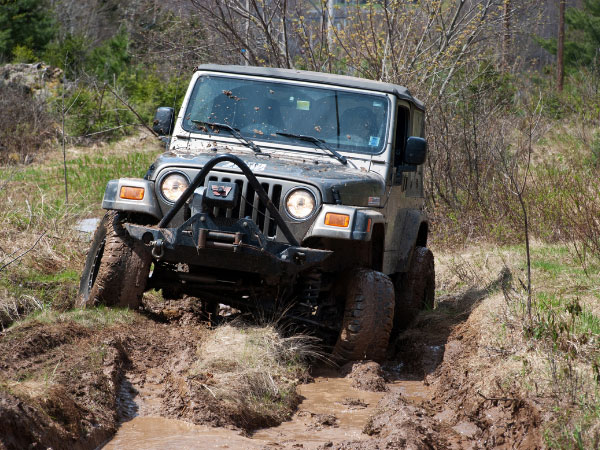 One way to help you determine which Wrangler is going to be your best towing option is for you to be familiar with the standard towing features you can expect the Jeep to possess.
Heavy-duty front end tow hooks that allow you to pull and tug on friends and family when they get caught between a rock and a hard place, or in a muddy mess
Control light bars that help you illuminate the area around you so you can see what you are doing
Tow hitch receivers to connect your trailer to your vehicle
Programmable auxiliary switches so you can easily select which auxiliary feature you are needing to use
4×4 Systems That Make a Difference
One of the things you have to consider when you are thinking about towing capacities is the 4×4 system that is installed on the vehicle. The majority of people who want to drive a Wrangler want a 4 wheel drive vehicle.
There are three main four-wheel drive systems that come on the 4×4 Wrangler series. These include the:
Selec-Trac® 4×4
With this system the vehicle switches over to 4 wheel drive automatically when you encounter terrain covered in snow, ice, or slick mud. You do not have to do anything special or remember to switch from two-wheel drive over to four-wheel drive. Most of the time this system keeps your vehicle in the two-wheel drive mode, it just switches over when the need presents itself.
Rock-Trac® 4×4
This is a superior system that offers you a 4:1 low gear ration that provides you with a lot more control as you drive. It also electronically disconnects the front sway bar to increase the off-road driving control and performance.
Command-Trac® 4×4
This is the best towing system for the four-wheel drive vehicle. It has a specialized selection option that allows you to determine your gear ratio according to the surface area or terrain you are covering. If you are towing a trailer down a flat highway covered in pavement you do not need the same gear ratio as you do when you are towing the same load up a steep incline or down a steep slope.
How Much Towing Capacity do You Need?
The amount of towing capacity you will need is going to be decided by what you are going to be pulling behind you. Most people either pull a boat, a travel trailer, a trailer filled with tools, or other pleasure equipment like jet skis and four-wheelers.
Read our guides on Jeep Wrangler Bike Rack for better towing things.
To determine what towing capacity you need your vehicle to have you must determine the average weight you will be pulling along behind you.
If you are pulling a fishing boat, on a trailer, the average aluminum fishing boats weigh about 2,950 pounds. This means that a two-door Jeep Wrangler that only has a capacity of towing 2,000 pounds will be greatly stressed if you try to pull your boat to the lake with it.
If you have a bass boat then the average weight increases to about 3040 pounds.
If you have a saltwater fishing boat the average weight will be closer to 4400 pounds.
If you have a pontoon boat the average weight will be close to 3500 pounds.
Common things people tow and what they weigh
| | |
| --- | --- |
| Item being towed | Average weight |
| Small car | 2,800 pounds |
| Car trailer | Between 1,600 and 2,000 pounds |
| Car and trailer | Between 4,400 and 4,800 pounds |
| Camper trailer | About 5,200 pounds |
| Tool trailer | Between 1,600 and 2,000 pounds |
| One quarter cord of firewood | 1250 pounds |
| Wood and trailer (1/4 cord) | Between 1850 and 3250 pounds |
| ½ cubic yard of gravel | Between 1225 and 1475 pounds |
| ½ cubic yard of sand | Between 1350 and 1575 pounds |
| ½ cubic yards of mulch | Between 375 and 425 pounds |
| ½ cubic yard of top soil | Between 1075 and 1100 pounds |
If you are pulling a camper trailer the camper weight must be added to the tongue weight of that camper. If the camper weighs 7,600 pounds the tongue of the unit will weigh between ten and fifteen percent of that amount. That is about 730 more pounds you must add to the 7,600 weights, when you are determining if your vehicle is stout enough to pull the trailer.
Experts recommend that if you pull a travel trailer the trailer should weigh less than 75% of what the vehicle tow rating is. If your vehicle has a tow rating of about 6,000 pounds then do not pull a camper that weighs more than 4,500 pounds to ensure that you can maintain speed and momentum while driving up inclines or across rougher terrain.
How the Towing Capacity is Determined
The amount of towing capacity a vehicle has is determined by the manufacturer. If you do not know the exact towing capacity of the vehicle you own you can make a guess by using the following formula.
You need to know the gross combined weight of the vehicle. This is the maximum weight of the vehicle and the maximum weight of the trailer and contents behind it.
From that number you will subtract the curb weight. The curb weight is the empty weight of the vehicle.
Final Thoughts
There are a lot of things to consider about towing capacities. If you are confused about your towing capacity limits or needs the sales service at your local Jeep Wrangler dealership will be able to help you decide how much strength you need and how to get that strength.