The Ford Bronco and the Jeep Wrangler have been long-time favorites of adventurous people.
These vehicles are the ones that come to mind when you think about driving in off-road situations, or rock crawling, crossing streams, and seeing the less-populated areas of the country.
If you are considering a vehicle that will let you go fishing, hunting, hiking, skiing, and to any other remote locations then comparing the Bronco with the Wrangler is a smart idea.
Back History of Bronco and Wrangler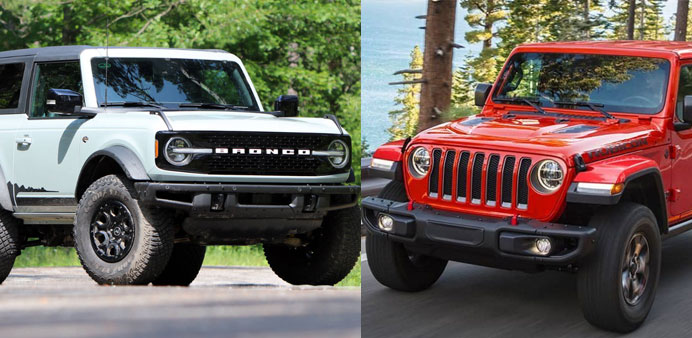 First, we will take a look at the back history of the two vehicles. Neither of these automobiles is new to the marketplace.
Ford introduced the world to their Bronco with the 1966 model that debuted in 1965. The Wrangler did not make its debut until 1986.
The Bronco quickly became the vehicle of choice for anyone who wanted to do off-road activities. The manufacturer equipped the auto with a citizen's band radio, a spare gas tank so you could go farther without fear of running out of fuel, a winch to help pull you out of trouble spots, and a post-hole digger.
The Wrangler was designed to look like the tough-as-nails Jeep that was used in WWII. In 1986 the Jeep that debuted as a Wrangler looked a lot like the 1940's version called the CJ.
The vehicles came with removable tops so adventure seekers could enjoy the fresh air and sunshine while they were in the vehicle.
Wrangler was a new version of the CJ in that it was designed to be a little more comfortable to ride in so that it could be used as a family vehicle and an off-road entertainment vehicle.
Ford Bronco vs Jeep Wrangler Pros and Cons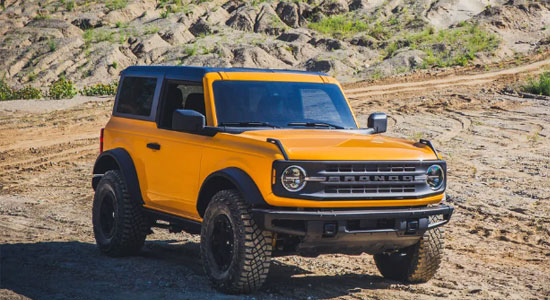 Pros of the 2021 Ford Bronco
Acceptable levels of road noise so it can be driven daily
Equipped with Go Over Any Type of Terrain mode selector
When the G.O.A.T. modes are selected, the Bronco optimizes steering and shift points automatically to get you ready for the terrain you are about to cover
The 2021 comes with a choice of two engines. The standard engine is the 2.3 liter that has 275 HP, or you can upgrade with the 2.7 liter that offers 310 HP
You have a choice of a 7-speed standard transmission (which uses less gas, costs less, and gives you greater control) or the 10-speed automatic transmission
This Ford offers good fuel economy and averages about 25 miles-per-gallon
Includes the high-performance stability suspension system designed by the manufacturer to make the vehicle better for off-road travel
Great ground clearance of 8.8" so you can travel over rougher areas and through deeper waters. The 2021 Bronco can be driven through waters that are as much as 23.6" in depth.
Has a maximum towing capacity of 2,205 pounds
Incredible cargo space is part of Bronco's appeal. With the seats in an upright position, the cargo space measures 32.5 cubic feet, but when you lay the seats flat, the cargo space increases to 65.2 cubic feet.
Has four smart-charging USB ports for all those phones, tablets, and more
Has Bluetooth technology
Underinflated tire warning sensor
Automatic braking during an emergency situation
Pedestrian detection
Available in a four-door version 
8" touch screen
16" silver painted wheels
Tow hooks in front and rear
LED headlamps
Mirror caps
Push-button start
Fender tie-down hooks
Fender flares
Black door-handles
The Cons of the 2021 Ford Bronco
Every vehicle on the road has some cons or some reasons why it is not the best car for certain driving types. The Bronco cons include:
Drives more like a truck, so the ride is rougher than you might expect.
The higher trim levels are pretty pricey
You do not have the option of getting a V8 engine.
The tow rating is pretty low.
Has big blind spots
Easy to roll over when you take curves and turns too quickly
Cloth seats
Carpeted flooring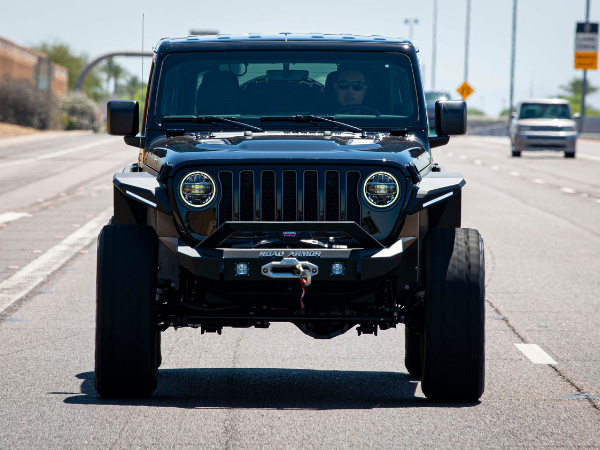 Pros of the 2021 Jeep Wrangler
Can have full-time 4×4 or part-time 4×4
Traction control puts the power in the right wheels according to the terrain
You get four engine options, including a hybrid option. You can also get diesel-powered versions of this vehicle.
You choose between soft top or hard-top
Removable doors
Good for daily driving or for adventure driving
Comfortable front seats with added lumbar support
Streaming Bluetooth music
Has a fabulous navigation system
Comes with an Alpine stereo and nine speakers
High-strength steel frame construction
Steel side beams for added strength
Four-wheel ABS braking system
An anti-theft alarm system that can immobilize the engine to stop a would-be car thief
Traction control
Stability control that has built-in anti-roll technology
Can hit sixty miles per hour in as little as 4.5 seconds
Rated best in crawl class due to a 6-speed manual transmission and the low gearing
High ground clearance
Has a slower cost depreciation. Most vehicles depreciate about 50% in their first five years but the Wrangler depreciates about 30% in the same amount of time.
Available right-hand driver option for mail carriers
Blind-spot monitoring
The rear detector senses cross traffic
Forward facing camera
Park assist
Backup camera
Towing capacity of up to 3,500 pounds
Cons of the 2021 Jeep Wrangler
Can be noisy for on-road driving
Does not have really great cargo space
Some of the higher trim levels can cost close to 50,000
Does not offer great fuel economy
More comfortable than a Bronco but not smooth like a sedan
Colder in the winter due to a lack of insulation
Hotter in the summer due to a lack of insulation
Quick video comparisons
Ford Bronco vs Jeep Wrangler Specs Comparison
| | | |
| --- | --- | --- |
| Specs | Ford Bronco | Jeep Wrangler |
| wheelbase | 100.4 to 116.1 inches | 96.8 to 118.4 inches |
| height | 71.9 to 75.2 inches | 73.6 inches |
| Maximum seating | 5 | 5 |
| Engine | 2.3 liter | 3.6 liter |
| Torque | 325 lb-foot | 260 lb-ft |
| transmission | 7-speed standard | 8 speed automatic |
| Turning diameter | 35.53 feet | 34.5 feet |
| MSRP | 28,500 | 29,071 |
Ford Bronco Or Jeep Wrangler Price, Safety, Reliability, and Others Comparison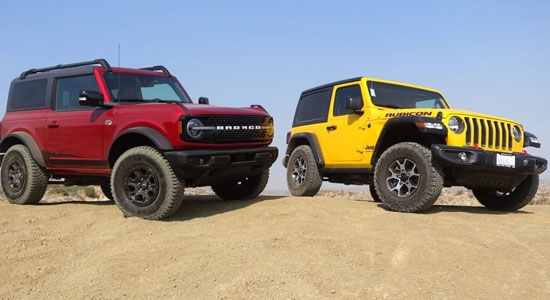 The biggest consideration between these two powerful SUVs is the manufacturer who made them. Some people have a greater amount of confidence in one manufacturer over another, and you should put that into your consideration.
Price
The two vehicles start with standard packages at relatively the same price. There are slight differences but not enough to make a big change.
The real price considerations will happen when you begin looking at the more expensive trim packages and upgrades available.
The Jeep Wrangler called the Rubicon can run close to 50,000 after customization, and upgrade choices.
Fuel Economy
The Ford Bronco offers slightly better fuel economy, but you have to realize that these larger off-road capable machines do not offer the best fuel economy.
Typically, if one of the big SUVs gets 20 miles per gallon, it is getting about the maximum number of gallons per mile that you can expect.
Safety Features
The standard safety features offered on the basic Bronco and the basic Wrangler are pretty similar. There are not a lot of fabulous differences. With that said, we must remind you that the Jeep Wrangler has anti-roll technology that helps it not be turned over when you take a curve too fast or drive across rougher terrains.
The majority of the new safety features people want on their vehicles are available with either of these machines. There are some minute differences, but they are not big enough to do any screaming about.
Reliability
These manufacturers both have excellent reputations for designing and maintaining reliable vehicle production.
Ford and Jeep are two of the top name manufacturers for SUVs, and if you look closely they were the first two manufacturers to develop vehicles that were capable of off-road adventure driving.
Clearance
The Jeep Wrangler Rubicon has about 2 additional inches of road clearance than the Ford Bronco. That should not be a great deciding factor, though.
If you want increased ground clearance, you can always have a lift kit installed to give you the added height.
Warranty
The warranties offered by the two manufacturers are almost identical in length and protection. Once again, these two manufacturers have stood the test of time and know how to protect their buyers.
Final Thoughts
Both the Ford Bronco and the Jeep Wrangler are SUVs that are great for adventure driving, can carry at least five passengers, are close in price, high in quality, and simply fun to drive. Either of these vehicles will give you the option to go farther and enjoy more activities.