I am frequently asked by new jeep owners if they can use Armor All on their soft tops. 
Armor All is not the best choice product for cleaning or protecting your Jeep soft top.
Armor All on a Soft Top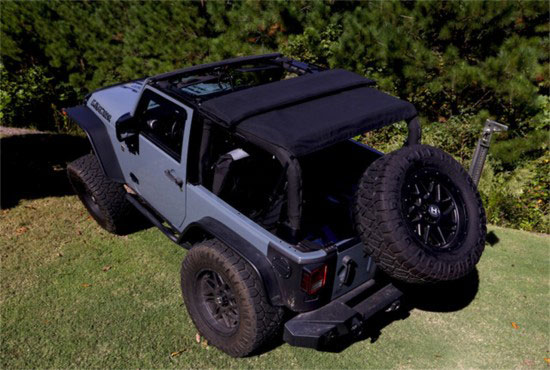 You do not want to use Armor All on a soft top because the product is not designed for use on fabrics of this type. You always want to use a product that is specifically designed for the material you are cleaning and protecting.
If you do apply Armor All to the soft top when it rains you may notice that the run-off from your Jeep top is delivering a film that will adhere to the paint of the vehicle.
What to Use on A Jeep Soft Top
There are several products on the market that will help you to protect your soft top and extend the beauty and life of your cover.
303 Protectant
303 comes in an easy-to-apply spray bottle. It is formulated with a UV protectant that equals a 30 SPF sunscreen in protective ability. It is designed to make the material it is placed on repel dirt and grime so it stays cleaner longer.
It is a non-toxic product that is not harmful to the environment. The formula has no silicone oils in it, no petroleum distillates, waves or abrasives will be found in it.
It can be used on vinyl, rubber, fiberglass, LEXAN, and on sailcloth.
RaggTop Protectant
This product is made to be used on soft tops for vehicles. It will not cause any damage to your vehicle finish, your glass, chrome, or plastic components. It is even recommended for use cleaning Jeep soft tops and windows.
You spray the product on, wait a few minutes, then wipe the area dry. You can even make this application in the sunlight.
It has powerful UV blockers that slow down the ravages of time and sun exposure.
This is an environmentally friendly product with no chlorofluorocarbons or petroleum distillates. It leaves the material able to repel water and helps prevent leaks and drips.
Pledge
Pledge furniture polish can be used on your soft top or your vinyl windows. It helps to repel water, dirt, and grime.
The problem with using pledge is that it does not have a powerful UV protectant to stop sun damage. It also starts to allow the fabric to turn yellow as it ages and many people say that using Pledge or ordinary furniture polish will increase cracking and peeling and make the top age faster than it should.
Frequently Asked Questions
How Do I Protect My Jeep Soft Top?
You should clean the material with mild soap and water, and when it is dry apply a protectant that reduces sun damage like fading. Try to park the vehicle in a covered area, and never park under trees.
How Do I Clean My Jeep Soft Top?
You should use warm water and a mild detergent when cleaning your soft top.
How Do I Keep My Jeep Soft Top From Fading?
The number one way to protect the material from fading is to keep the vehicle parked in a covered area out of direct sunlight. You can also buy UV protectant sprays and conditioners to apply to the material on a regular basis.
Final Thoughts
Your soft top on your Jeep is an investment. You need to use the approved cleaning and protectant products to make certain that your top lasts as long as possible and looks as good as possible. If you have any doubt about what products are best for your soft top speak to a certified Jeep auto shop about what products they recommend.
More Jeep Related Articles:
1. How to Clean Jeep Wrangler Soft Top & Windows
2. How Many Miles Can a Jeep Wrangler Last?
3. Clicking Noise When Turning in 4 Wheel Drive