If you have been considering a Jeep Wrangler you may be wondering if you should get the 2021 Jeep Rubicon or the Sport. Both of these vehicles are spectacular Jeep products so you are going to have to compare them closely to make up your mind.
Off-Road Driving
If you are a dedicated off=road or adventure driver then you need to look a little closer at both of these vehicles. They come with a badge that tells you they are ready for adventure driving.
The Trail Rated® Badge is only awarded to those vehicles that are superior for driving in off-road situations. They are tested over ice, through snow, over rocks, and across sandy expanses. They are also tested in their water fording capabilities.
Towing
If you are looking for a greater towing capacity then you need to look closer at the Rubicon. The rear-axle of the Rubicon has a higher ratio than the one on the Sport. The higher rear axle ratio gives the vehicle more power for towing.
The higher rear axle ratio will also increase the fuel economy you can expect from the Jeep Rubicon. The gasoline-powered V8 has a 4:10 gear ratio and the diesel engine comes with a 3:73 gear ratio.
Tire Size
If you want the larger tires then you want to pay attention to the Rubicon. The tires on that model are larger than the ones on the Sport. The Rubicon is available with a 35" tire package. That means you can cross tougher terrain with fewer problems.
The amazing vehicle comes with 17" Beadlock® Capable Wheels. You also get 33" mud-grips for tires on the standard edition.
The Sport comes with 33" all-terrain tires instead of the more aggressive mud-ready tires of the Rubicon. The Sport does not offer a tire upgrade to the 35" size.
Difference Between Jeep Wrangler Sport and Rubicon
Jeep Wrangler Rubicon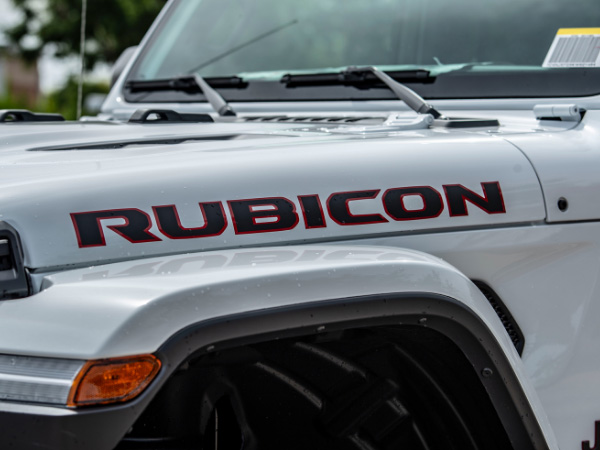 6.4-liter Hemi® power V8 engine that delivers 470 horsepower.
The ability to go from o to 60 in 4.5 seconds
The ability to cover one-quarter of a mile in thirteen seconds
470 Ft. – Lb. Torque. of Torque. This phenomenal amount tells you that this engine has the power to do the heavy jobs, drive the roughest terrain, and tow the heaviest loads.
Electronic sway bar disconnects which increases the articulation of the front tires to make it possible for this machine to do more in rougher areas
FOX aluminum body shocks that are 2" in diameter
Half doors have returned to the Jeep lineup and they are available on the Jeep Wrangler Rubicon 392.
Black leather-trimmed seats create a luxury feel inside the cabin. The front seats have Rubicon 392 embroidered onto them and they are stitched with bronze stitching to make them stand out from the crowd. The leather and bronze stitching also increase the durability of the seats so go ahead and get dirty, your Jeep interior can take it.
An 8.4" touch screen gives you the ability to connect, select, and navigate easily
There are padded shifters on the steering wheel of the Jeep Wrangler Rubicon 392. These shifters give you the ability to control the gears, and shift and change gears, without taking one of your hands off of the steering wheel. That means greater control when driving over tough spots.
Jeep Wrangler Sport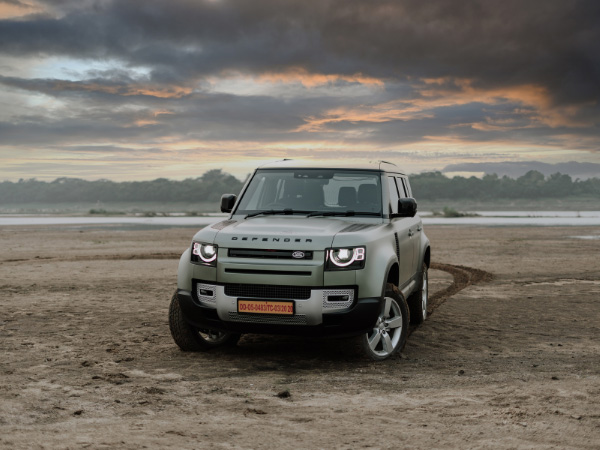 The biggest differences between the Jeep Wrangler Sport and the Jeep Wrangler Unlimited Rubicon are the engines that power them. The Sport does not offer the V8 Hemi® and does not offer the same horsepower or Ft.-Lb. Torque.
Four engines can be chosen for the Sport.
2.0 Liter Turbo that has ESS that offers 270 horsepower and 295 Ft. – Lb. Torque. This engine has a towing capacity of 3,500 pounds.
3.0 Liter Ecodiesel that offers 260 horsepower and 442 Ft. – Lb. Torque. With a towing ability of 3,500 pounds.
3.6 Liter Pentastar® V6 that has ETorque advantages that offer 285 horsepower and 260 Ft. – Lb. Torque. The towing strength remains consistent at 3,500 pounds.
3.6 Liter Pentastar® V6 that has ESS that offers 285 horsepower and 260 Ft. – Lb. Torque. The towing strength remains consistent at 3,500 pounds. The real difference with this engine is the automatic engine stop and start technology that has been integrated into it. This engine feature makes the vehicle more fuel-efficient.
4×4 Systems that Make a Difference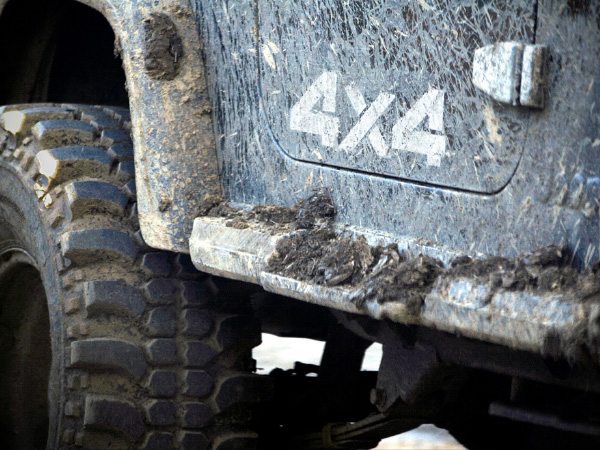 The Command – Trac® delivers the Torque to all four wheels. This system gives you more traction and a 2.72:1 low rangeability in case your favorite driving includes rock crawling.
Select – Trac® has the ability to automatically switch to a two-wheel drive when you are driving across smooth roads or city streets. This ability increases the fuel efficiency of the vehicle. If you do encounter snow, ice, or the need for your four-wheel drive capabilities the vehicle automatically switches back to become a tough 4 x 4.
Rock- Trac® has a 4:1 gear ratio that is low enough to help you across rocks, steep inclines, and downward slopes. This 4 x 4 system includes the ability to automatically switch from a 4-wheel drive to a 2-wheel drive system if slippage occurs while you are traveling. It also has electronic-locking front and rear differentials that are going to allow you to go farther off the beaten path than you have ever ventured before.
Selec-Speed® is a great feature that keeps the vehicle in 4LO whenever you are going around tough obstacles, climbing steep inclines or going down steep slopes. The amount of engine Torque applied will be automatically regulated and the brake pressure will be automatically regulated to help you retain the most control in these difficult driving scenarios.
The ability to pre-select the exact amount of air you want each tire to have. When you are airing up your tires or letting some air out to cover sand and things the system will alert you when the tire has the exact air pressure you have pre-selected.
An off-road button is present that lets you have greater control over the throttle, transmission, and shift points while you are driving.
Rock rails are in place to protect your door sills when you are engaged in rock crawling adventure driving. This is the Jeep to have if rock crawling is your favorite adventure because it can give you an 84:1 crawl ratio that will allow you to maintain control and go where you want to go.
Weather-resistant carpet that is removable so you can clean up after an adventure.
Heated front seats that help make the coldest climates a little more tolerable
A heated mirror option that keeps your side mirrors showing what you need to see
Dual-zone automatic temperature control allows the driver to have their side of the vehicle cooler or warmer than the passenger has their side.
A removable cargo floor that allows you to secure items out of sight. The cargo floor area can be locked and secured so any valuables that you are carrying with you can be secured when you are going to be away from the vehicle.
A nine-speaker Alpine® Premium stereo system is going to ensure that you hear your music loud and clear,
Which Jeep is Right for You Rubicon or Sport?
Both the Jeep Wrangler Sport and the Jeep Wrangler Rubicon are ready for off-road adventures that most other vehicles cannot endure.
Choose the Rubicon If You Need:
A Hemi V8®
The bigger 35" tires for deeper fording and crossing logs and larger road obstacles
Leather-trimmed seats that look and feel luxurious
Speed
A more aggressive exterior
Half-doors
Choose the Jeep Sport If You Need
Unprecedented rock crawling ability
Locking cargo areas
Better fuel efficiency from the part-time 4×4 that automatically converts the vehicle to a 2-wheel drive when you need it
More choices in engines and 4×4 systems
Final Thought
Both the Jeep Wrangler Sport and the Rubicon are trail rated® vehicles proven to be ready to take you anywhere you want to go. They both have similar seating arrangements for 5 people, and they are comparable in expected fuel mileages. The big difference is the off-road terrain you need your machine to cover.