You often hear people who are about to start families asking if the Jeep Wrangler is a good family car.
The Jeep Wrangler is a unique vehicle that can be a safe family car or an off-road adventure vehicle.
Jeep Wranglers and Family Transportation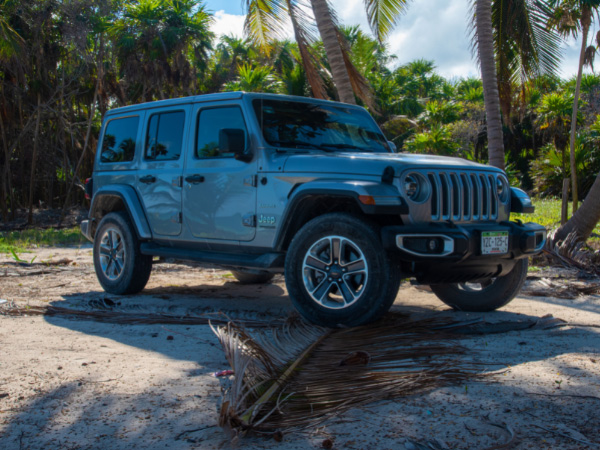 The Jeep Wrangler is a unique vehicle that is capable of being used as a family car but may not be the first choice of many families.
If you want to own a vehicle that allows you to do off-road driving, towing a boat and trailers, and also function as a family vehicle then the Jeep Wrangler is a good choice for you.
The Jeep Wrangler has good safety ratings, especially the front impact safety ratings. They do get a poor score on roll-over potential. These vehicles have increased ground clearance which makes them less stable so they can flip over in an accident easier than other vehicles.
The safety features found on the Jeep Wranglers meet or exceed safety protocols. They have anti-lock braking systems, and airbags and can have rearview cameras, park assist, and many more safety features added.
Traction and stability control are optimum on a Jeep and that means that when you are driving your family and the weather is less than perfect you are more likely to arrive at your destination safely.
Older Jeep Wranglers were not capable of handling multiple car seats but the newer Wranglers can have multiple car seats installed in the 4-door models. The newer models have anchor points that are easy to identify and use. They are even capable of handling the larger car seats that the older models of the Jeep Wrangler were unable to do.
Family Car Drawbacks
There are some reasons you may not want the Jeep Wrangler to be your family vehicle. One of the biggest reasons is they do not have the same interior room that you would find in a van or many SUVs. The rear seat area is cramped and does not provide a lot of legroom, and the cargo area is very small.
The front seats are better suited for shorter people so tall people are often uncomfortable while driving them.
These vehicles are notoriously noisy when they are driven down paved roads. They do not have the same amount of insulation as most family vehicles have and the metal they are constructed of is lighter. That means when you reach speeds greater than 30 mph on the highway the noise levels are increased.
If you have sleeping children or want to be able to play the radio at volumes that do not damage your hearing the Jeep Wrangler can be a poor choice for you.
Jeep Wrangler Pros and Cons
Pros
You can drive these vehicles across any road or terrain due to their 4×4 capabilities.
You get increased visibility over other vehicles because they have a greater standard ground clearance than most other vehicles.
The heating system in these vehicles is fabulous. In the cold weather, the interior will heat up quickly for passenger comfort.
They are made in America.
The parts needed for repairs are easy to access and generally affordable to buy.
They are built to be long-lasting so a family can drive a Jeep Wrangler for many years before they start to experience any repair issues.
They have an excellent resale value so your investment is a wise one.
They are smaller than many SUVs so they are easier to park in tight parking spaces, in parking garages, and more.
They handle well with great steering response even though the steering is slower than other SUVs.
They can also be used as a fun vehicle for get-aways and vacations
They have a fabulous towing capacity so you can pull larger boats and travel trailers behind them
They can be personalized so you get to maintain some individuality
Software to prevent flips and rollovers is now available for the Jeep Wrangler.
Rearview Cameras are now available so it is much easier for family drivers to make sure that nothing or no one is behind the vehicle.
The backseats of the 4-door models now have multiple car seat capabilities. The latch points for the car seats are easier to access and operate.
Tire pressure monitoring is now available
SOS buttons are in place in some trim levels. If you are in an accident pressing these buttons will summon help and let emergency responders know your location.
Cons
The higher ground clearance of these vehicles make it easier to have a roll over accident in them
They have slower than average acceleration. This is a fabulous feature when you are driving over icy roads or rock crawling but is considered a con when driving paved streets.
The cargo and storage space is limited
They are higher off of the ground so they can be more difficult to get in and out of
Taller drivers are not as comfortable in the front seats. This also makes it more difficult for taller drivers to get good visual clarity out of the rearview mirror.
They are noisier than most other SUVs when traveling down the road,
The rear seating area does not provide a lot of room. It is cramped and some say uncomfortable for adult passengers to use.
They are taller than most SUVs so they have a greater amount of wind resistance.
The ride is not as smooth as in other SUVs because the suspension is firmer.
Rear visibility is not always good. This is especially true when the top is in place.
They do not get a lot of miles per gallon of fuel. This is not just common with the Jeep Wrangler it is a common feature of SUVs in all makes and models.
The roof does not have insulation so it can be harder to cool the interior in the summer.
The doors are small and narrow and this can make getting children in and out of the vehicle more difficult to do.
Larger car seats do not fit as well in the compact rear seats of a Jeep. The Jeep Wrangler Unlimited does have more room for car seats and is more spacious in the rear.
Don't want to read? Here is a video on Jeep Wrangler Pros and Cons
FAQs
Are Jeep Wranglers Safe?
The Jeep Wrangler is a safe and reliable automobile. If you get the higher trim levels you can increase the safety of the vehicle.
Is A Jeep Wrangler a Good Investment?
The Jeep Wrangler has an excellent resale value and that makes it a wise investment.
Can a Jeep Wrangler Be A Daily Vehicle?
The Jeep Wrangler is a great option whether you want to drive off-road or want to go to work, school, and around town.
Final Thoughts
The final answer on whether a Jeep Wrangler is a good family car lies in your definition of what a good family car is. It all depends on your family and what you like to do. These vehicles are manufactured to meet or exceed all safety regulations so they are safe and reliable for highway and in-town driving. They also offer you the opportunity to take the family camping, to the beach or to the mountains.
Related Jeep Wrangler Articles>>
1. Are Jeep Wranglers Safe for Babies?
2. Are Jeep Wranglers Good in The Snow?
3. Can You Use A Tow Dolly For A Jeep Wrangler