As a Jeep enthusiast, I am frequently asked whether or not you use a tow dolly for a Jeep Wrangler.
Yes, you can use a tow dolly if follow instructions for the dolly, and make sure the vehicle is properly secured and does not weigh more than 3,900 pounds.
Needing to tow your Jeep Wrangler is frustrating and the following guide is intended to help you tow your vehicle safely.
Best Methods of Towing Vehicles
The basic methods of towing a vehicle will work for the majority of vehicle types.
Tow Dolly
Basically, a tow dolly is a small trailer designed where the front tires of the vehicle are lifted off the ground. This reduces possible damages that can be caused to the driveline and the tires of the vehicle.
A tow dolly has a trailer hitch that connects it to the operational vehicle. The trailers are very light and they can normally be rented at locations that have moving equipment like moving vans.
The Cons of Using a Tow Dolly
The front tires are lifted so this places the rear of the car closer to the ground. With the reduced ground clearance parts of the vehicle may drag when you go over bumps or railroad tracks. Damages can be done to the bumper, the undercarriage, and other components.
Tow dollies are limited to how much weight they can handle. The front-wheel-drive vehicles placed on a tow dolly cannot weigh more than 3,450 pounds. Rear-wheel-drive cars can weigh as much as 3,900.
You cannot back up while using a tow dolly.
Tow Bar or Flat Towing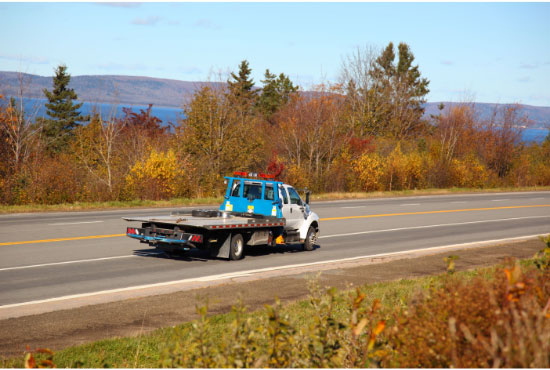 Tow bars can also be rented where you rent moving trailers and vans. The tow bar is less expensive than the tow dolly, and it works on the same general principle.
Tow bars can create a unique situation when you are turning and applying your brakes at the same time. The rear vehicle can have enough momentum that it pushes on the front vehicle and causes the vehicle to move to the outside of the turn.
You see tow bars being used behind RVs frequently.
Not all vehicles can be towed in this manner.
The cost of setting up the proper braking systems and lights can make flat towing with a dinghy very expensive
Most states that you drive through will require that the vehicle being towed has some type of braking system
Using a Trailer
You can tow a car using a trailer. The trailers can be open or completely enclosed units. You drive the car you are not going to be driving up on the trailer, connect the trailer to the vehicle you will be driving, and you are ready to go.
Using a trailer ensures that the vehicle not being driven is safe and not damaged during the move.
Cons of Using a Trailer to Tow a Vehicle
There is really only one con for using a trailer to tow your vehicle. The trailers are more expensive to buy or rent.
Of course, using a trailer to tow a vehicle requires that you be capable of pulling a trailer while driving.
Towing Precautions
When you are towing a vehicle there are some precautions you must take to protect both vehicles and other drivers on the road.
The vehicle you intend to use to pull the car must weigh a minimum of 750 pounds more than the vehicle being towed
Always attach the safety chains that protect you if the coupler were to come off of the hitch ball
Use your mirrors to keep a close eye on the car you are towing
Slow down you do not need to drive fast while towing a car
Always load a car onto a tow dolly with the vehicle facing forward
Make sure the tire straps are properly locked in place
Keep any chains away from fuel lines and brake lines
Disconnect the driveshaft when using a tow dolly
Have proper towing lights and mirrors in place
If you will drive through several states make certain that you know the other states laws on mirrors and lights
Frequently Asked Questions
What is The Best Way to Tow a Jeep Wrangler?
The best way is to use a trailer.
What do I Need to Tow a Jeep Wrangler?
You will need a trailer, a tow dolly, a tow bar, or chains and straps to connect the undriven vehicle with the one pulling it.
Is It Safe to Use a Tow Dolly on Long Distances?
It is safe as long as you follow all of the proper precautions and guidelines.
More Jeep Related Article
How Much Can a Jeep Wrangler Tow
How to Clean Jeep Wrangler Soft Top & Windows
How to Put a Jeep Wrangler in 4-Wheel Drive – Complete Guide
How Many Miles Can a Jeep Wrangler Last?
Final Thoughts
Flat towing is not the best solution for towing a vehicle. Often, when the vehicle breaks down in a remote area flat towing is the only solution. If you can get a tow dolly you can reduce the chances of doing damage to either the front or rear vehicle. Use all safety precautions when towing a vehicle.