If you want to do adventure and off-road travel, but you have several people who may be riding with you from time to time, then a vehicle with third row seating is what you want. The typical SUV and van that accommodates 5 or more passengers do not accommodate off-road destinations. 
That is why so many people are interested in whether they can get the passenger room they need, and the durability of a Jeep Grand Cherokee in the same package. Say goodbye to your problem because the Jeep Grand Cherokee does offer third-row seating and can carry up to seven people at one time.
Looking at the Trim Levels
The Jeep Grand Cherokee comes in many different trim levels. Each trim level offers different amounts of seating, different engine strengths, and different features. To get a Cherokee with third row seating you have to select the trim level that includes that possibility.
With each trim level the standard equipment increases, the luxury increases, and unfortunately the prices increase. You can customize the vehicle according to what your specific needs are, and keep it within a price range that your budget can afford.
The Basic – This Includes The Laredo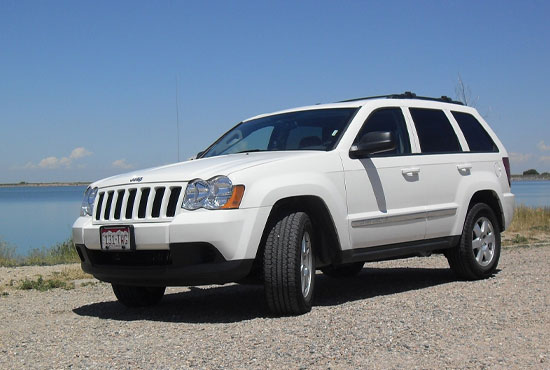 The basic Jeep Grand Cherokee is the trim package that has the fewest bells and whistles. It is also the smallest of trim levels.
How many seats does the basic Jeep Grand Cherokee have? The basic has one second row bench seat and two captain's seats so it has a seating capacity for 5.
Other Standard features include:
A rear backup camera
Eight speed automatic transmission
3.6L engine
7" touchscreen for multimedia system
Audio controls mounted on the steering wheel
The Altitude
The all-black interior of the altitude is aggressive and impressive. This trim level also offers upgrades that intrigue drivers, and add comfort and security to the vehicle.
How many seats does the Altitude have? Seating in the Altitude will accommodate five people.
The upgraded features in this trim level include:
A power liftgate
Remote start technology
20" black aluminum wheels
Uconnect 4C navigation and multimedia center with an 8.4" touchscreen
Heated front seats
Heated steering wheel
Leather trim on the second-row seating
Power sunroof upgrades are optional
A towing package upgrade is optional
The Trailhawk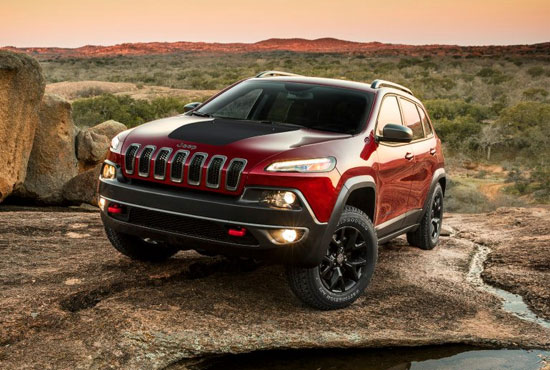 This Jeep is specifically designed for off-road adventure driving. It is only sold as a 4 x 4 because of this.
How many seats does the Trailhawk have?
The Trailhawk has seating for five.
Additional features and upgrades include:
18" aluminum wheels designed for off-road travel
Highest level trailer tow package
Quadra Trac II four-wheel drive
A select terrain system so you can choose what kind of road you are traveling and the vehicle will adjust accordingly
Undercarriage skid plates to protect from rocks and debris
Front seats that are ventilate
Power Liftgate
Upgrade to a premium Alpine sound system
Power sunroof is optional
Rear seat entertainment video monitors are available. The system can show movies are play video games. You have a choice between a single or a dual screen that come with wireless headphones.
The engine upgrade is available
Heated front seats
Heated rear seats
Heated steering wheel
The SRT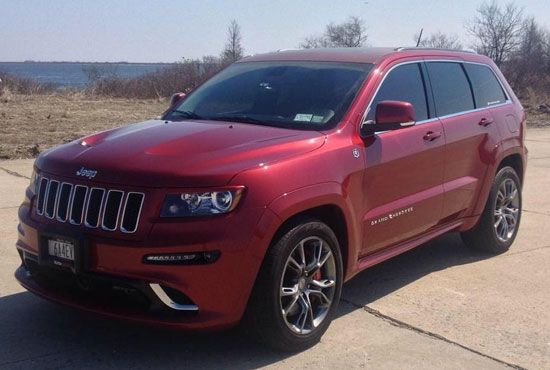 SRT is short for "street racing technology" and this trim level offers some fabulous features you are going to love.
How many seats does the SRT have? The SRT has the same number of seats as the basic level. It has a capacity of five people.
Other features of the SRT include:
20: satin carbon wheels with five spokes
Power Liftgate
Bi-Xenon HID headlamps for brighter lights
Upgrade to higher towing package optional
Heated front seats
Ventilated front seats
Heated second-row seating
Heated steering wheel
Uconnect 4C navigation and multimedia center with an 8.4" touchscreen 
A rear video entertainment upgrade is optional. The system can show movies are play video games. You have a choice between a single or a dual screen that comes with wireless headphones.
The Overland and High Altitude
These are the mid-level trim models that offer plenty of upgrades so they are above the baseline, but they are restricted enough that they remain more affordable.
How many seats does the High Altitude have? Seating for five.
Other features and upgrades of this trim level include:
Power Liftgate
Dual panes in the sunroof
An upgrade to the premium Alpine sound system
Heated front seats
Ventilated front seats
Uconnect 4C navigation and multimedia center
Rear video entertainment packages are optional. The system can show movies are play video games. You have a choice between a single or a dual screen that comes with wireless headphones.
A class four receiver hitch on the 4 x 4 models
Rain sensing windshield wipers that adjust speed according to how heavy the rain is
The trailer tow package upgrade is available
The engine upgrade is available
Four-wheel drive technology is optional
Jeep Grand Cherokee L
Jeep has granted the wishes of many adoring customers by creating a seven-seat capacity in a Jeep that can go across adventurous terrain. This ain't no ordinary SUV. This is the real deal package that gives you everything you could want from a Jeep.
The Jeep Grand Cherokee L will be available in an Overland trim level and a Summit trim level.
How many seats does the Jeep Grand Cherokee L have? With its third-row seat, the L offers seating for either six or seven passengers.
Other features of the L include:
A night vision camera that can detect the movement of animals or people as far as 219 yards away from you.
Collision assist that will brake for you in case of a potential collision 
Alpine sound system with either 6 or 9 speakers
10.25" digital instrument panel
Digital rearview camera
10.1 touchscreen on the multimedia center.
Uconnect upgrade to Uconnect 5
12 USB ports so everyone can charge everything
Six USB-C ports
Four-zone automatic climate control
Backseat camera so you can see what the children are doing.
Ambient lighting
Ventilated seats in the second-row
Massage features available on the front seats
An imitation suede headliner option
Contrast color stitching on the dashboard
3.6 liter with a V 6 with an upgrade to a 5.7 liter V-8 optional.
The towing capacity of 7,200 pounds
Second-row seats that tilt forward to provide easy access to the third-row
Plenty of leg room in the third-row seat that people six-foot can easily sit comfortably without feeling cramped.
10.9" ground clearance
Quadra lift air suspension
Ability to ford 2 feet of water
Jeep Seating capacities
Until 2021 Jeep Grand Cherokees have conventionally been vehicles designed for no more than five passengers. The increased seating with the third row in the 2021 L series is going to make a big difference for a lot of people. 
The fact that Jeep is maintaining high ground clearance, and fabulous off-road features will make it possible for you to go further, and do more in your Jeep.
Final Thoughts
The latest model of Jeep Grand Cherokee, the L series is a more luxurious and comfortable vehicle that you would expect from an off-road-ready Jeep. Jeep has combined luxury creature comforts, advanced technology, safety features, and rugged ability to create what is possibly going to be the most sought-after off-road vehicle ever manufactured.