Even if you are towing the Jeep side by side; borrowing a U-Haul alongside a pair outing is a fantastic option. It will cost between 2-4 thousand dollars to flat tow the Jeep. Finding a compact vehicle trailer on which to tow the Jeep or side by side would be a better option in this case. To set up a jeep for flat towing, you will only need to make one purchase.
You may save a significant amount of money by doing the installation yourself. Also, instead of installing a pricey braking system in the car, use the tow bar that is already built-in and already has the brake system attached to it. The disadvantage is that the installation procedure for towing setup is much more time-consuming and expensive, requiring additional funds.
How Do I Make My Jeep Flat Tow?
Jeep Wrangler and Gladiator drivers appreciate the complete additional flexibility that these vehicles afford. An off-road vehicle, such as a Jeep 4X4, may be important since you're a regular commuter or an off-road fanatic with a voracious desire for four-wheeling. It's for this reason that the Jeep Wrangler is by far the most often flat-towed car. The Jeep Gladiator is a flat towing vehicle that is comparable in age to the Jeep Wrangler despite the fact that it is a far more recent model.
If you want to travel across the country in an RV and explore even more of the country as possible, you will discover that an RV is far less adaptable than any kind of Jeep you can buy or build. As a result, many RV owners choose to tow a second car behind their RV.
Comparison of Towing Kinds
| | | | |
| --- | --- | --- | --- |
| | Flat Tow | Tow Dolly | Trailer |
| Movability & Storage | Easiest | Medium | Difficult |
| Parts Cost | $2-$4 Grand | $3-$4k | $5-$15k |
| Can Backup | No | No | Yes |
| Ease of Hooking up the tow bar | Easiest | Medium | Difficult |
| Vehicle Modification Required | Yes | No | No |
Flat Towing and How Does It Work?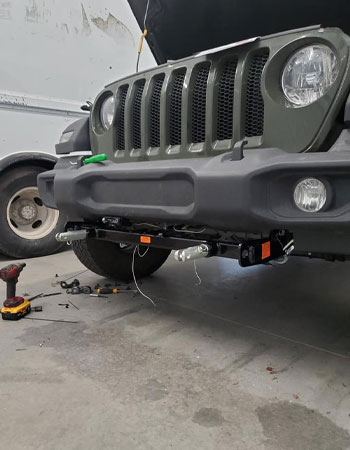 In order to transport an additional car behind your RV, towing is a practical option. There are three safe methods for doing so: dolly towing, flat towing, and trailer towing.
Flat towing, also known as dinghy towing, is the technique of towing a truck behind another automobile while keeping all 4 wheels of the dragged vehicle on the road at all times. Nevertheless, not all automobiles are capable of being flat towed.
Many current automobiles are equipped with automatic gearboxes that need the vehicle to be switched on and driven in order to maintain oil flowing correctly throughout the transmission system.
Consequently, before you drive forward and attach a tow bar to the car, double-check that it is capable of being flat-towed in the first place before purchasing the towing kits.
How Much Does It Cost to Flat-Tow a Jeep Wrangler?
| | | | |
| --- | --- | --- | --- |
| Component | Average Cost of Parts | Low-End Cost | High-End Cost |
| Base Plate Kit | $450 | $150 | $850 |
| Tow Bar | $750 | $200 | $1500 |
| Wiring | $150 | $60 | $300 |
| Braking System | $1145 | $800 | $1500 |
| Safety Cables | $90 | $35 | $150 |
| Total Cost | $2585 | $1245 | $4300 |
What Is The Impact of Towing Load on Costs?
A weight restriction is assigned to certain flat towing parts, such as the RV's hook and tow bar, which restricts the bit of load that may be safely flat towed. In general, equipment designed to support heavier loads is more expensive. In order to flat tow a heavy-duty vehicle or SUV, you will need to have more heavy-duty parts, which will cost you a little more money upfront, as explained above.
Cost of the Labor (Flat Towing Installation)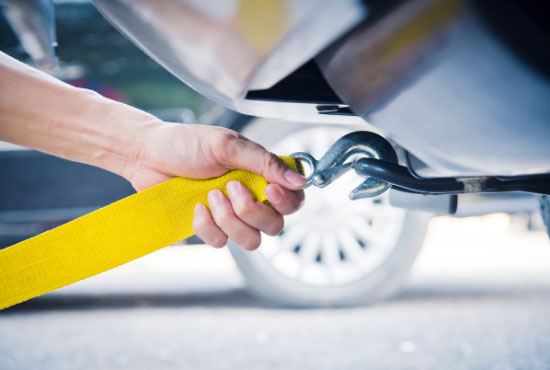 For those without a great deal of mechanical skill, installing some flat towing components might appear overwhelming. For those who aren't confident in their ability to make these adjustments and do not have the necessary equipment, you may hire a technician to attach the plate kit, cabling, and brake system.
Since these components may need alterations that you aren't qualified to do yourself. Drilling into the frame of your car, connecting to the electrical system, or tapping into the ventilation or hydraulic brake system are all possibilities. Only seven of the fifteen businesses were able to offer an approximation of labor costs, and the majority of the shops were reticent to submit their hourly service rates. Workers at the businesses that did provide the information charged between $80 and $140 hourly, depending on their experience.
Cost Estimates and Installation Time
| | | | |
| --- | --- | --- | --- |
| Cost/Time | Base Plate Kit | Light Diode Wiring | Fixed Braking System |
| Install Time Estimates | 5-7 hours | 4 hours | 3-7 hours |
| Install Cost Estimates | $400-$1000 | $200-$400 | $150-$1050 |
| Average Install Costs | $450 | $195 | $450 |
| Average Part Costs | $500 | $150 | $1150 |
| Total Estimated Costs | $950 | $345 | $1600 |
Can a Jeep Wrangler Be Flat Towed Behind a Motorhome?
Jeep Wranglers are excellent cars for towing a motorhome. Not only can you tow your vehicle behind a motorhome, but you can also park it within the motorhome's underneath parking compartment if it has one. However, when it comes to towing Jeep Wranglers, once connected to the towing bar and base plate kit, the Jeep may be pulled anywhere but not inside the motorhome.
Frequently Asked Questions
Can I Tow a Jeep Wrangler With a Dolly?
No, not quite. As mentioned before and as advised in the Guide, the proper technique to flat tow or tow with a dolly is to move the gearbox into transmission or Park and the torque convertor into neutral. In this position, neither the gearbox nor the torque convertor is rotating.
Is It Possible to Tow the Jeep in Neutral?
There is no other approach that is right. While flat towing, avoid shifting a manually or automatically gearbox into Neutral; gearbox complications may result leading to a shortage of sufficient lubrication.
Is It Possible to Flat Tow Any Jeep?
Indeed, they can. Every Jeep Gladiator or Jeep Wrangler, regardless of model or gearbox choice, maybe flat pulled without trouble. Having said that, you cannot just attach the Jeep to the towing truck and drive away.
Is It Possible to Tow a 4×4 With a Tow Dolly?
Yes. This requires the use of a towing wagon or a tow truck. Trailers are advantageous when all four wheels of the car are not functioning properly, but a tow dolly raises only the front two or back wheels of the vehicle.
Is a Braking System Required to Flat-Tow a Jeep?
While flat towing a 2018 Jeep Cherokee, more braking is required. Most jurisdictions now mandate that the automobile getting flat hauled have additional brakes. The simplest solution to configure is a controller that adjusts the truck brakes according to the amount of braking applied by the tow trailer.
Final Note
With a better understanding of what flat towing is, how something works, the components required, and the related expenses, you must have a better feel of if flat towing is right for you.
Expect to pay between $2,500 and $4,500 on a whole flat towing system. The expense of a tow dolly without most of the equipment, such as a brake pedal if you are considering an electronic type, is normally between $3,500 and $5,500, which is a significant financial commitment. A truck rig may cost upwards of $15,000. Flat towing might save you a significant amount of money.
Related Articles:
1. How Much Can a Jeep Wrangler Tow
2. How to Put a Jeep Wrangler in 4-Wheel Drive – Complete Guide
3. Tow Dolly – Can I use one to Pull My Jeep Wrangler?