If you are shopping for a Jeep, then you already know that are several varieties that all have different strengths and weaknesses. The differences between the Rubicon and the Wrangler Sahara, and Jeep Wrangler Sport lie in the price, look, and off-road capabilities.
The Rubicon
The Rubicon is a Jeep Wrangler. The Rubicon is one of the trim package options on this popular model of the SUV that was created using the WWII Jeeps as inspiration.
Seventeen years ago, Jeep began to produce the line that they named the Wrangler. The wrangler has grown and developed into several versions. The Rubicon is currently one of the most popular trim levels offered in this line. Rubicon is the higher level of trims, meaning it has the more advanced bells and whistles included on it.
Similarities in the Three Vehicle Versions
| | | | |
| --- | --- | --- | --- |
| | Rubicon | Sahara | Sport |
| MSRP | $42,800 | $38,890 | $28,295 |
| Transmission | 6 – speed Manual | Auto or Manual | Auto or Manual |
| Engine Size | 3.6I gas | 3.6 gas | 3.6 gas |
| Torque | 260 ft. lb | 260 ft. lb | 260 ft. lb |
| Torque RPM | 4000 RPM | 4800 RPM | 4800 RPM |
| Horsepower | 285 HP | 285 HP | 285 HP |
| Drive Type | 4WD | 4WD | 4WD |
| Ground clearance | 10.8" | 10" | 9.7" |
The three versions of the Jeep Wrangler have a lot of similarities. These include:
Front headroom of 43"
Rear headroom of 42"
Gets about 17 miles per gallon in the city
Gets about 23 miles-per-gallon on the highway
They have a keyless access system that comes with standard
They come with halogen headlights standard
All three have ABS and driveline traction control
All models have seat-mounted driver and passenger airbags for side impacts
Headlight washers come on all models
All models got four stars on the driver side crash rating
On the overall front crash ratings, they all received four stars
Passenger's side crash ratings were four stars for each
Overall crash ratings were only three stars for each
No recalls have been listed for any of the 2021 models of these three trim packages
About the same 3500-pound towing capacity (this amount on the Sport is only available on the Sport S, otherwise the normal sport towing capacity is closer to 2000 pounds)
Rear child safety door locks are standard
Power locks
Jeep Rubicon, Sahara and Sports Features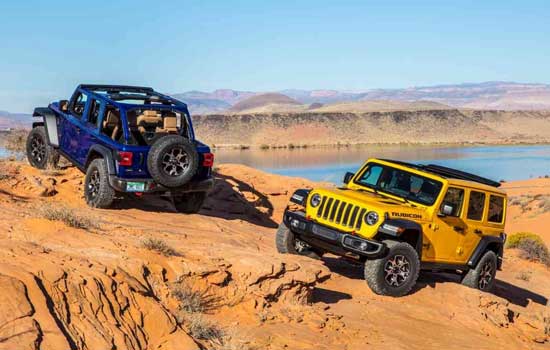 Rubicon Specs
The Rubicon is the hands-down choice if you are an off-road enthusiast. It has greater ground clearance so you can travel over rougher terrain, through deeper water, and retain ultimate control.
If you like to go rock crawling you will want to buy a Rubicon instead of the other two models.
The Rubicon is the top-of-the-line when it comes to Jeep Wranglers. It is ready for extreme driving through extreme conditions. It is sporty, and durable, and it has all of the safety features that allow you to feel confident when you are driving.
This is the Wrangler trim level you want if you want the very best that money and buy, and your budget will allow you to spend more on a vehicle. You must also keep in mind that with the higher price tag on the vehicle the insurance rates you pay will likely also be much higher. Tax, title, and license charges will also be greater.
You have more customization options available on the Rubicon, and you can turn this into a unique vehicle that suits your own unique tastes, driving style, and preferences.
Comes with an electronic front sway bar disconnect
Has rock rails
LED lighting options are available
115-volt auxiliary outlet
7" touchscreen Uconnect
One-touch power top
Front to rear axle ratio is 4.10
Performance suspension
Locking differential
33" all-terrain tires
Supports 5 passengers
Has low fuel warning
Has driver and passenger vanity mirrors
Optional rear-window defogger
Jeep Sahara Specs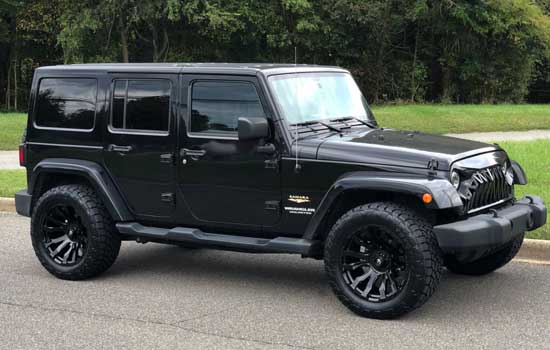 If you want a Jeep to take camping with your friends, but not really to drive over extreme terrains, then you want a Sahara.
The Sahara offers the smoothest ride of the three Jeeps. The off-road driving capabilities of the Sahara are very low. If you want thrills and adventure do not choose the Sahara, go ahead and get a Rubicon.
The Sahara is not a bad Jeep. It is just not really built to be an off-road vehicle that you use for adventure weekends. It is designed more for driving paved roads, or well-kept dirt roads. It is the mid-price range of the Wrangler trim levels, and most of that price is because of the comforts the vehicle offers. You are going to get a Jeep that rides more like a sedan when you buy this model.
8.4" touch screen Uconnect
3.21 front to rear axle ratio
Heavy-duty suspension
Conventional differential
Side steps
18" polished aluminum wheels
Can get a forward-facing camera upgrade
Can be customized with leather seats
Heated mirrors
Driver lumbar support in seat
Dual-zone automatic air-conditioning controls
2-doors
Dual manual control windows
Lightly tinted windows
Standard fender flares
Front fog lights
Removable rear window
Manually operated convertible top
Seats four passengers
Heated seat cushions and backs for both the driver and front passenger
Standard cargo light
Urethane steering wheel
Front and rear cupholders
Standard cruise control
Jeep Sport Features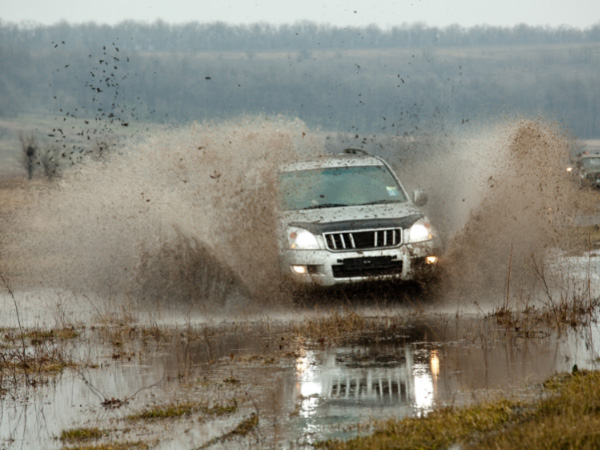 If you want the look of the Jeep when you cruise down to the beach but need a dependable everyday to work and the home vehicle then the Sport is your best option.  
If you like to work on your own vehicles and install your own upgrades like lifts, then choose a Sport. This trim level is more capable of off-road fun than the Sahara, but not comparable with the Rubicon.
If you want to save a little money but still get Jeep looks, style, and durability then the Sport is your vehicle. It is the most economical and is considered the basic Wrangler model. It is the perfect choice for first-time Jeep owners who are not yet sold on these powerful vehicles.
If you have always wanted to own a Jeep then the Sport will give you the opportunity to try a Wrangler out without breaking the bank. The Sport is cheaper to insure than the other models, and it is quite capable of being both a serviceable and a fun vehicle.
5" touch screen Uconnect
3.73 front to rear axle ratio
Normal to mid-range suspension
Conventional differential
17" black satin wheels
Tow hooks
Bluetooth streaming audio
Seats 5 passengers
60-40 split-bench seat in the rear
Rear window wipers
Removable rear window
Four doors
Related posts:
Rubicon vs Sport: What Are the Differences?
Final Thoughts
Jeep has been producing vehicles that are adventurous, flamboyant, tough as nails, and dependable for more than 86 years. No matter what style of Jeep Wrangler you choose, you are going to be getting a vehicle designed to stand the test of time.